May 25, 2013
When I was at Una Pizza Napolentana last year, my friend Chris Liscio and I were watching Anthony (the pizzaiolo) make the pizzas and Chris mentioned something to me that I had noticed as well but couldn't quite figure out. I don't remember Chris's exact words, but it was along the lines of:
"He's not putting any semolina on his peel. How is he getting away with that? The pizzas are just sliding right off into the oven with no problem!?"
I just shrugged and figured Anthony had some magic touch that you get after making thousands of pizzas over many years.
...
Fast forward to present day.
...
Recently I've grown tired of cleaning the little buckets that I raise my dough in. If you make 16 pizzas that's 16 little buckets with 16 tiny dabs of olive oil in them that I have to clean up. I know the pros don't do this- they use proofing boxes where they'll sprinkle a little bit of flour in and then place 6-8 dough balls in there with a simple lid on top (for a reference, fast forward to about 2:16 in Pure & Simple).
I'd much rather just clean one larger container without any olive oil. So I bought a proofing box with lid, and stuck 6 dough balls in there.
When it was time to bake the pies I took off the lid and reached for the first dough ball and noticed something new— the skin of the dough had dried a bit. Not too much to make me worried, but it was certainly different. Previously when I used a bucket with a tight lid on it (and a single dough ball in it) no moisture would escape and the skin of the ball was even all around. And because it was even there was no side that I would have considered a top or bottom to the pizza. And since it had the same texture on both sides after shaping (it was slightly clingy) I'd throw some semolina flour on my peel to make it slide off nice and easy.
But now I had something new to play with. I had one side of the dough that was less clingy than the other and this side was obviously going to be the bottom. So I made my pie and put very very little semolina flour on my peel. The pizza slid right off. I made another pie and used just a tiny bit less semolina on the peel. This pizza also slid off without any problems. And then finally I used no semolina for the next one. It of course slid right off.
So I think that's the secret I was missing. If you raise the dough in an environment where the skin of the dough can dry out a bit (but not too much!), you won't need semolina flour on your peel.
Now here's some pics: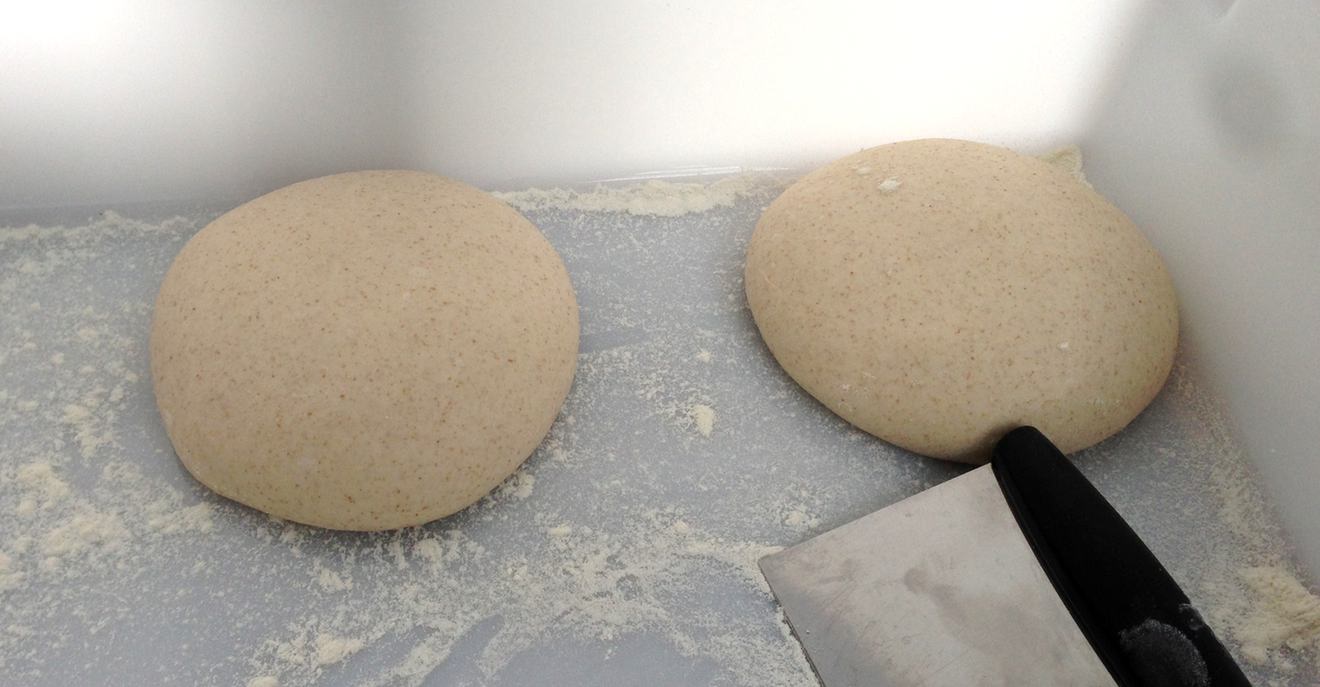 Dough in a box.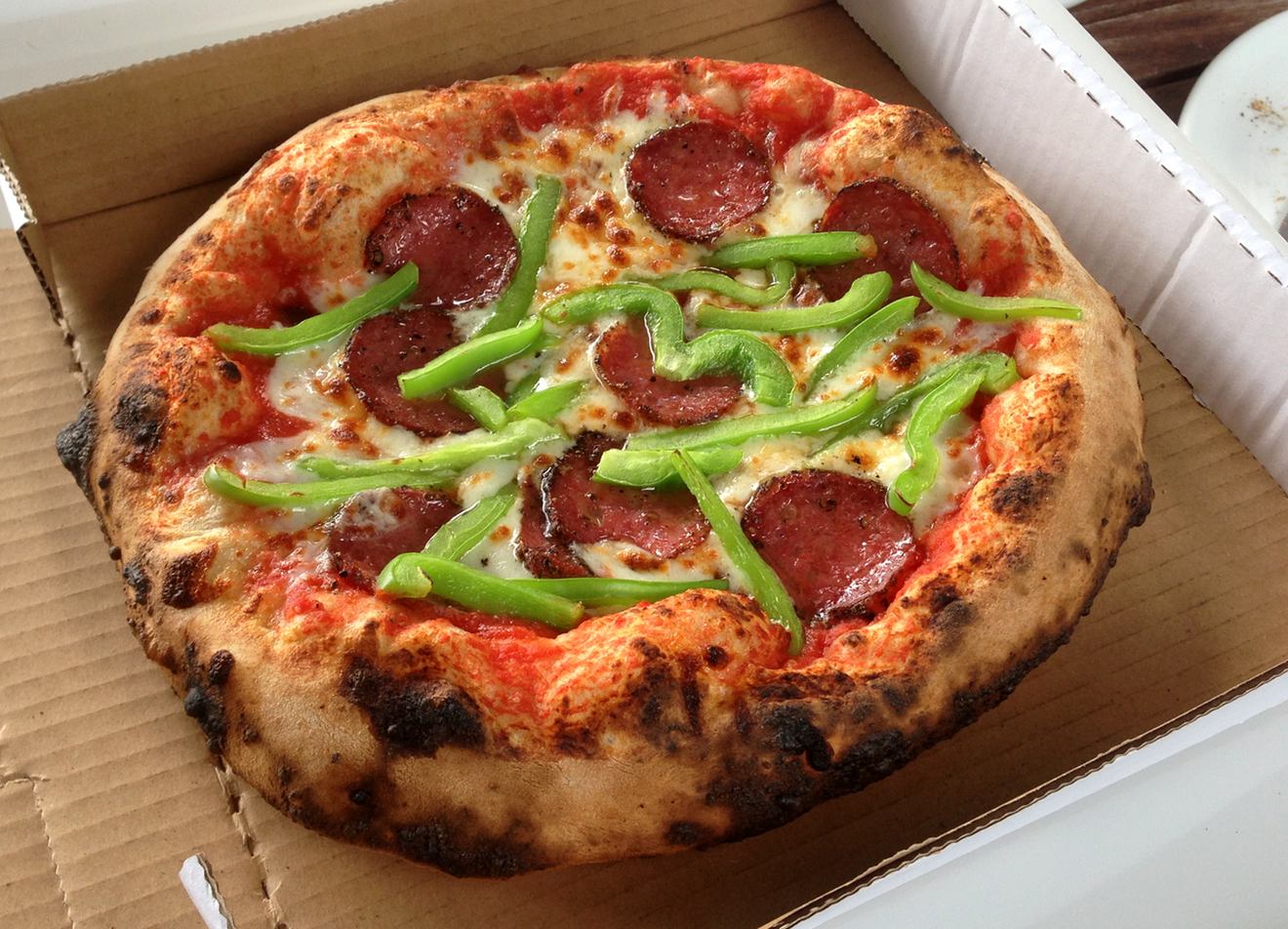 Pizza in a box. Delivery for a neighbor.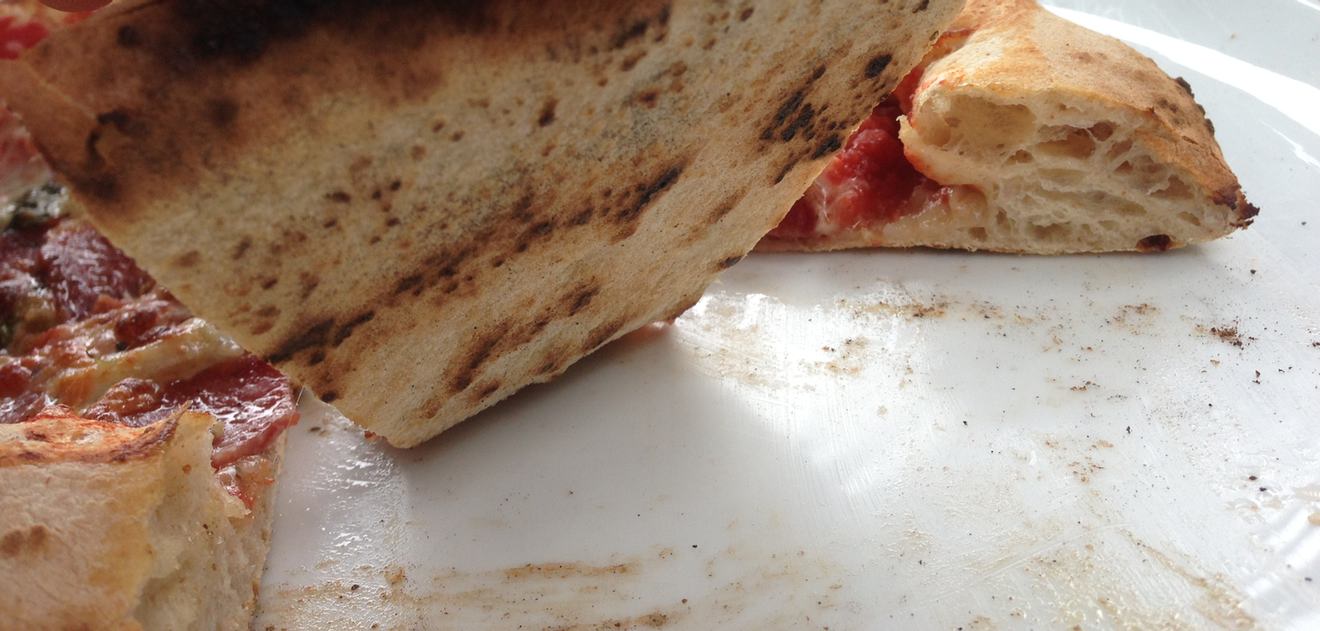 Undercarriage of a pizza. The drier skin didn't make a difference as far as the bottom goes.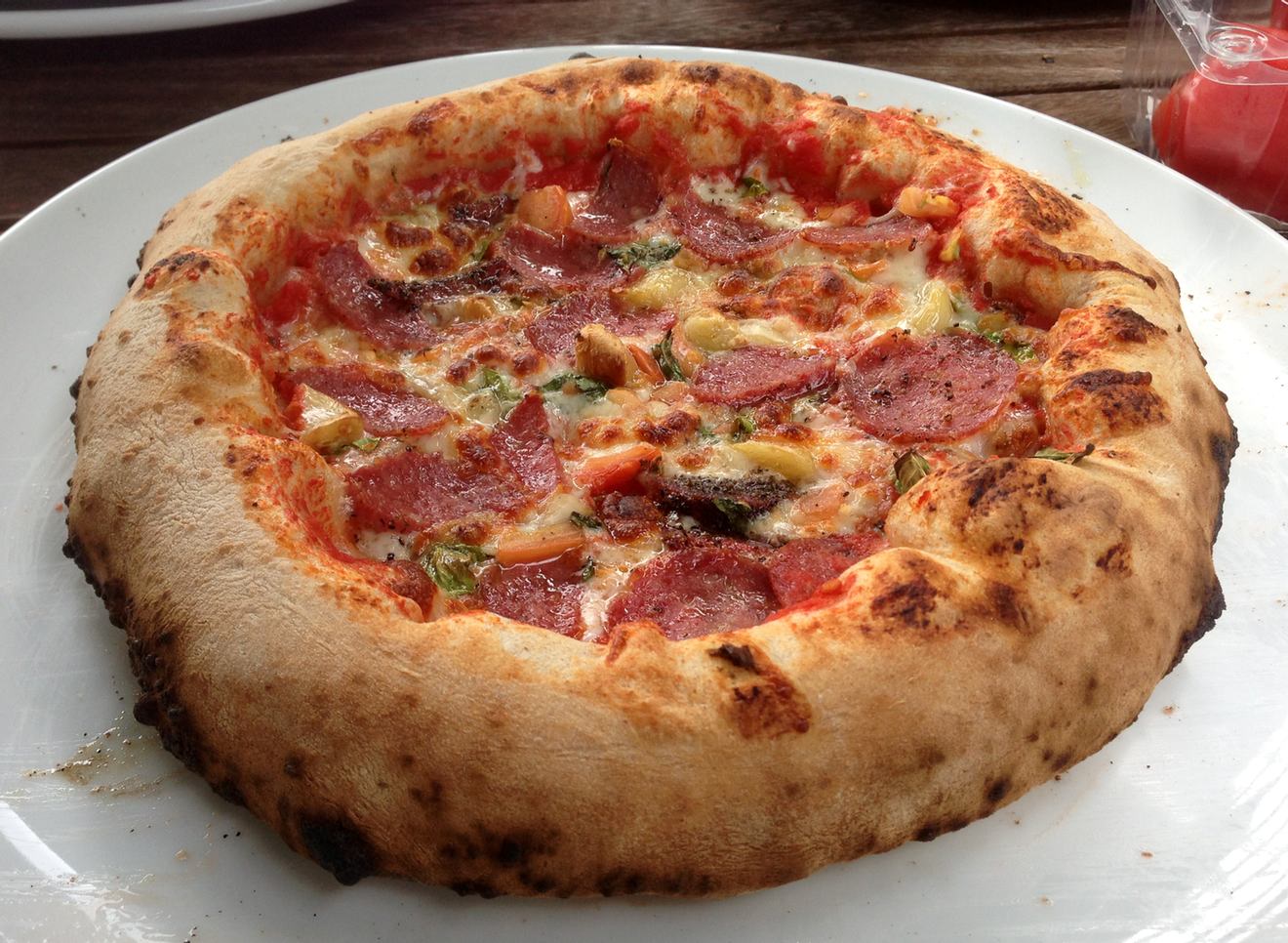 Top of the same pizza. Notice how the texture on the left is different and drier looking than the right. This was because that side had a bit more flour on it when shaping. The More You Know™